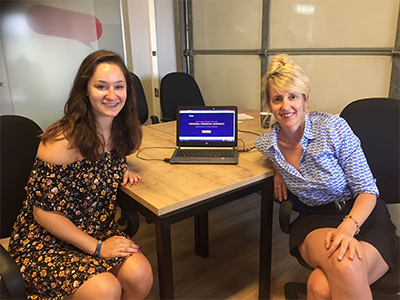 My name is Anneliese and I am a rising junior at the University of Pittsburgh double majoring in psychology and accounting. My Placement Coordinator Brittney, managed to find the perfect internship that combines both of my majors. I'm interning at a small financial startup company called Genie. Genie was started by my boss who one day, realized she was not living the life she wanted but didn't have the financial ability to accomplish her goals. Because of her experience, she wanted women to be more financially knowledgeable and independent in order to live the life they want, and started Genie to accomplish this. At Genie, we match women with someone called a Genie, a financial guide or expert, in order for the women to reach greater financial independence and stability in any way they wish, from finding the confidence to ask for a raise to learning how to invest their money.
This internship couldn't be more perfect for me. I've taken many business classes, but I've learned as much about business in this past month from my boss and all the research I've done at work by applying what I've learned and being a new member of the FinTech community. Because it is essentially just my boss and I working full time at Genie, I've gotten hands on experience with just about every aspect of starting a company. I spent the first few days researching our first topic of interest: salary negotiation and asking for raises, allowing me to apply my psych major. I've been able to dive into the reasons why women either don't realize they are making less than their value, or don't ask for the salary they know they deserve leading to the wage gap, a global trend. I also had the chance to work on our website, published only a few weeks ago, to help with formatting and wording.
My favorite thing I have done at Genie, however, was reaching out to women to hear about their personal experiences with salary negotiations. I found dozens of women-only business and entrepreneurial Facebook groups and reached out to some women in these groups who had successfully negotiated their salaries and were willing and excited to share their stories with me and Genie. I FaceTimed with some of these women one day to talk with them more about their salary negotiations. This experience impacted me because I felt how passionate they were about helping Genie's cause, and how proud they were to share their success to inspire other women. They were able to tell me why it was different and difficult for them as women, but also why is was so rewarding and what they did specifically in order to get the raises they deserved. I can't wait to bring my experiences back to America with me and apply them to my studies, but more importantly to my future career. I'm proud to be having a huge impact on this incredible early-stage startup and can't wait to see Genie grow and change women's lives.