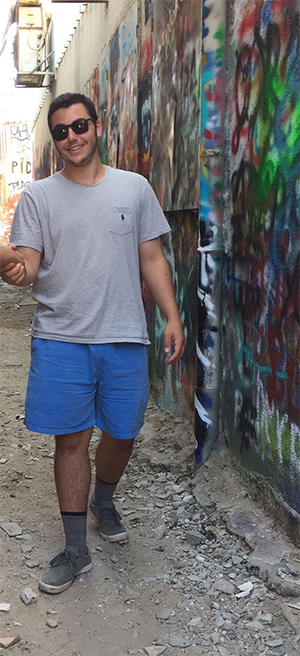 Shalom! I am Eric Baum from Pittsburgh, PA. I study Political Science at Miami University. I am interning for BrightBug Media, a start-up company focused on specialized e-commerce.
My time in Israel so far has been amazing. I feel a deep connection with the city of Tel Aviv, the country of Israel, and the Israeli people. The energy in this city is extremely welcoming and as an American Jew I truly feel at home here. The opportunity to participate in Onward Israel has given me a chance to live and work in an environment that few people get to experience. Working on an international stage especially in Israel is a very unique thing. It has given me valuable work experience and the ability to deploy my skills in many different areas of life. Some of my favorite parts of this experience so far was visiting northern Israel and staying with a host family in Misgav, Dialogue in the Dark at the Children's Museum, and taking walking tours of Tel Aviv. I look forward to the second half of this experience and knowing it will be just as amazing at the first. This trip has given me so much and I hope that I can take what I have learned and carry it throughout the rest of my life.
Please feel free to contact me at baumes@miamioh.edu, for any questions or more information about the Israel Experience, Onward Pittsburgh program.