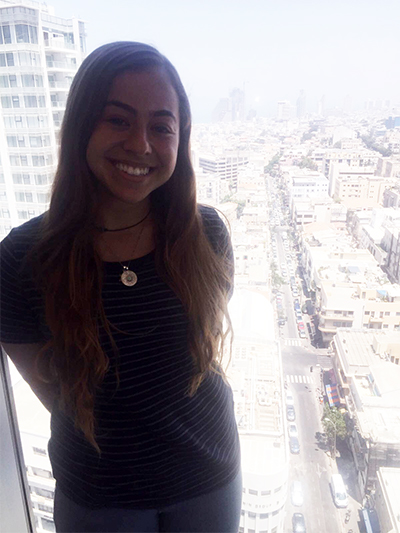 Shalom! My name is Jamie Barishman and I am a rising junior at the University of Pittsburgh, where I am studying Mechanical Engineering. Mechanical Engineering is an interesting major because of how broad it is. After taking some classes and overall learning more about what I can do with this major, I decided I was very interested in the research and design aspect. Upon learning about the multitude of opportunities here in Tel Aviv, I knew I had to participate in this amazing program! I am so beyond happy and grateful Onward Israel was able to find me my current position!
This summer I am interning at Versatile Natures – located in the heart of Tel Aviv! It is in Hotel Rothschild, on the Autodesk floors! In my opinion, it is one of the coolest offices I have ever seen! The experience of working with both Autodesk and Versatile Natures is like none other.Versatile Natures is a startup that works to make construction sites safer and smarter. They are a data mining and artificial intelligence platform that works to help construction workers and their headquarters build more quickly, efficiently, safely and less costly. I work directly with the CEO's of the company who are so actively involved this company. I am currently working with one of the founders of the company where I am completing research on a project while also using Autodesk software to design it.
I am surrounded at work by numerous 3-D printers and robotic arms, both big and small. These printers are available to print some amazing things! The other day we had a little show-and-tell type of meeting with the other participants from Pittsburgh. I was going to bring a bracelet that I had printed (but I accidentally broke it on the bus ride home from work). I quickly attempted to print a little screw and bolt and within 15 minutes it was complete and I had my object for show and tell! I love being in my office with such an amazing view and with such brilliant and smart people! I would participate in this program again in a heartbeat- living and working in Tel Aviv is truly an experience like no other.