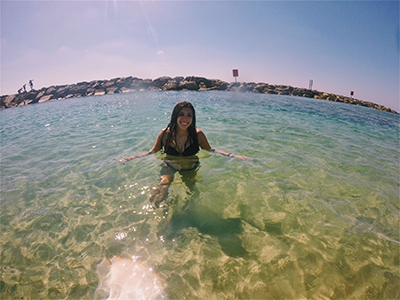 Hi! My name is Rachel Adelsheimer and I am from Pittsburgh. I go to Penn State University and am majoring in Communication Sciences and Disorders with the goal of becoming a Speech Pathologist. This summer, I am interning at Gan Bein Cremim Vesadot in Rishon Litzyon, which is a kindergarten for eight boys with Autism. I work with speech therapists, physical therapists and occupational therapists that come to the Gan daily.
The first time I came to Israel was ten years ago with my family, and I immediately fell in love with the country. I knew that I wanted to come back with my summer camp, Emma Kaufmann Camp, when I was sixteen and I did. I felt a much deeper connection with Israel when I came with over forty of my friends four summers ago. I came back to Israel this May for birthright and then started Onward a few weeks later. My trip with my summer camp and birthright made me feel very connected to my Jewish heritage and traveling around the whole country, but Onward has truly made me feel like this is my home. Onward has been an experience much different than all of my trips to Israel. I never thought that I would be able to navigate Tel Aviv as well as I am with my terrible sense of direction. Onward has given me the opportunity to work abroad and become immersed in a culture that is much different from America.
Last weekend I was given the opportunity to travel with my mom to Atlit, where we stayed with the host family she had when she was here thirty years ago. This trip was very special for me because I was able to reunite with my mom's host family and experience another part of the country. I was in Atlit ten years ago, but did not appreciate it as much back then. We also visited my mom's Druze friends which was a very new and cool experience for me.
I cannot believe that we are already over half way done with this experience. I don't know how I will be able to leave in a few weeks. Hopefully I will be able to come back next year when I am studying abroad in Barcelona!
Please feel free to contact me at rachel.adelsheimer@gmail.com, for any questions or more information about the Israel Experience, Onward Pittsburgh Program.