The last time I wrote two weeks ago, I described a visit to the Karmiel Absorption Center meeting 17 year old Sophia from Kiev. She broke down crying when we asked her about her family back home.
That moment put a human perspective on the news stories I'd been trying to digest. Two nights ago, our Board Chair Dave Sufrin and I returned from a national Federation leadership mission to Warsaw and the Ukraine border. The suffering resulting from this horrible situation became even clearer to me through the eyes of thousands of refugees. It's hard to adequately relate what we saw at the Polish/Ukraine border. And yet, despite all the suffering and anxiety that I witnessed, I also saw so much that made me proud not only of our Federation system but of the Jewish people, in general.
After days of travel and up to 14 hours of waiting on the Ukrainian side to cross into a new country, a line of what must have been thousands waited patiently to board buses to be transported to temporary housing centers. While they waited, organizations from different religious groups and NGO's handed out food and information about places they could go. The very first tent as each and every refugee entered Poland was that of an Israeli nonprofit. One of the first sites each refugee saw as they entered a foreign land was an Israeli flag. Help was given to any refugee, Jew or non-Jew.
We learned that professionals from the JDC camp out in a local hotel, and as soon as they become aware that a Jew has come across into Poland, American Jewish Joint Distribution Committee (JDC) staff rush over day and night to greet and direct them.
In Warsaw, we visited a Jewish Agency for Israel (JAFI) Aliyah center. Three thousand have already made Aliyah and that number is expected to rise exponentially.
We visited a former Yeshiva in Lublin now serving as a temporary home for refugees (again not exclusively Jewish). Its basement was filled serving as a warehouse of diapers, clothing and personal care items.
That basement of the Yeshiva in Lublin, the Aliyah center, and the staff who rush to greet Jewish refugees are all possible because of your support. You helped JDC stockpile food and medicine in Ukraine before the crisis began. You helped both JDC and JAFI set up call centers to handle calls from Ukrainians needing support and guidance. You help support the Absorption Centers in Israel that will take in new immigrants.
The work our Federation system makes possible is stunning. The infrastructure our Community Campaign has supported over the past decades in Ukraine and in the surrounding countries made it possible for our partner agencies to respond so swiftly, courageously and expertly. Situations like these can't be addressed efficiently or appropriately by organizations not knowing the lay of the land and without deep local relationships. I heard a colleague say that you need to build and maintain the firehouse to protect the firetruck or you won't be able to respond adequately when fire strikes. Fire has spread to Ukraine, and the Federation system, with your support, has already established and maintained the needed firehouse.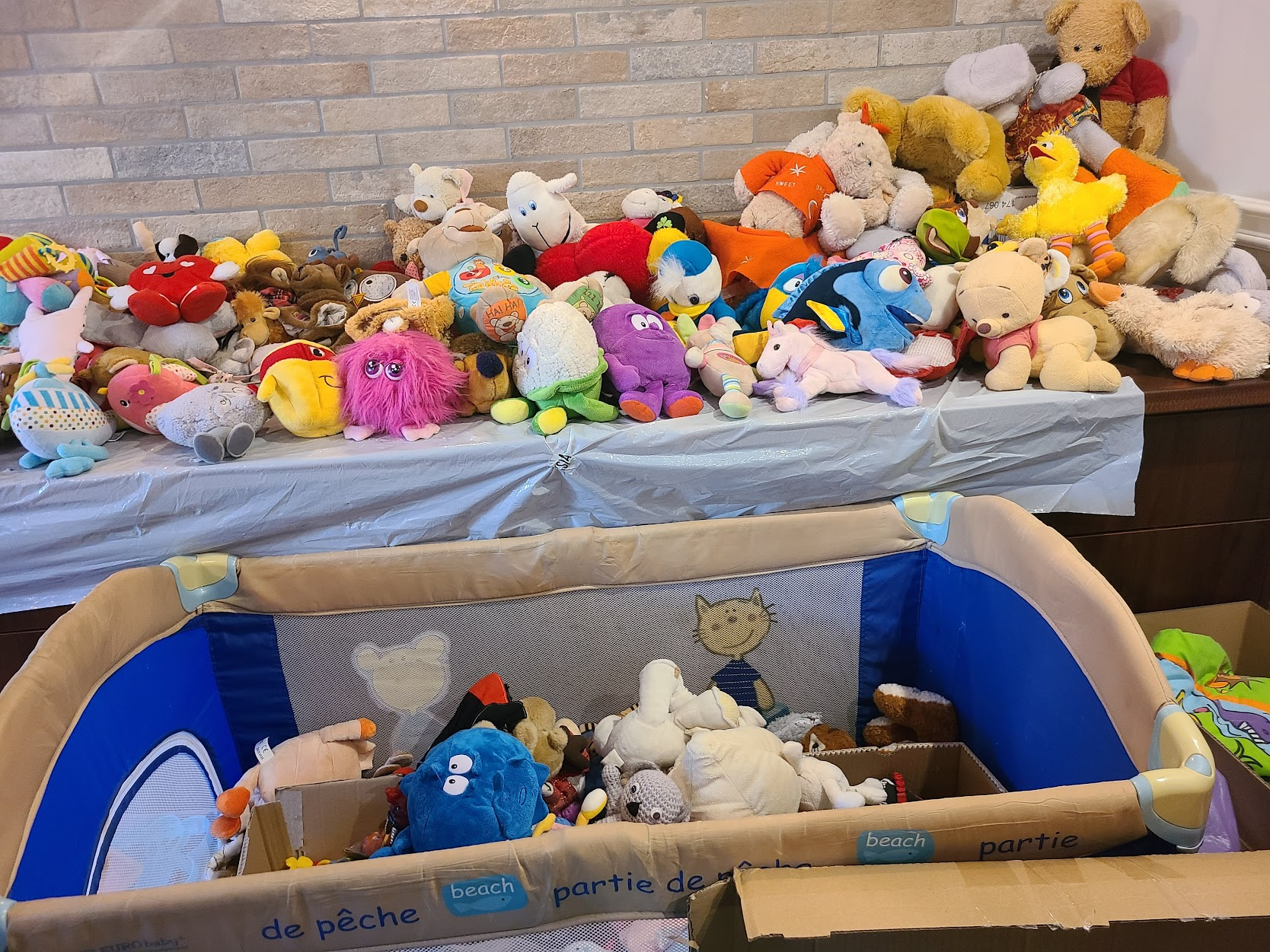 One last note. I want to share a single picture I took that struck me as significant. It is from that warehouse of items in Lublin and shows a collection of teddy bears for the displaced children. These children and their mothers (remember the men are not allowed to leave Ukraine) are arriving with so little. It is the hope that these toys may give young people some sense of normalcy in a terrifying situation. We can't forget the very human need for comfort and stability. I am so very proud to be part of a system that actively tries to uphold the very notion of kavod habriyot (honoring an individual's dignity).
Shabbat Shalom. To donate above and beyond your 2022 Community Campaign support, please give to our Ukraine Relief Fund.
P.S. Two additional notes both related to our Community Relations Council:
CRC is hosting a series of Coffee and Conversations with candidates for PA Congressional District 12 (the first is with Steve Irwin, the second with Jerry Dickinson and a third with Rep. Summer Lee). You can register for all sessions online.
Additionally, I want to congratulate Laura Cherner, our CRC Director, on being named one of Pittsburgh's "30 Under 30" winners by the Pittsburgh Business Times. Laura has worked tirelessly for the Federation and our community for 5 years. Mazel tov, Laura.