It's been a week filled with Israel for me. The beginning of the week I was in Jerusalem for the Jewish Agency for Israel Board of Governors meeting. The Jewish Agency (JAFI) is our largest recipient of dollars from our Annual Campaign. Their work around the world is nothing less than stunning. While much of this meeting dealt with the operations of running the largest Jewish nonprofit in the world (the budget, strategy, etc), we still could feel the impact.
At the closing JAFI plenary, a remarkable young man spoke. He was at a bar in Tel Aviv last year when a terrorist gunman opened fire. He was hit twice –  once in his stomach and also in his leg, nearly killing him and leaving him without the ability to walk without a cane. He loves being athletic and was working as a physical trainer prior to the accident. With the support of the Victims of Terror Fund of JAFI, and after many surgeries and physical therapy, he opened a gym directly across the street from the bar where he was shot. He says that he tries to go everyday after work to that same bar. What an inspiration!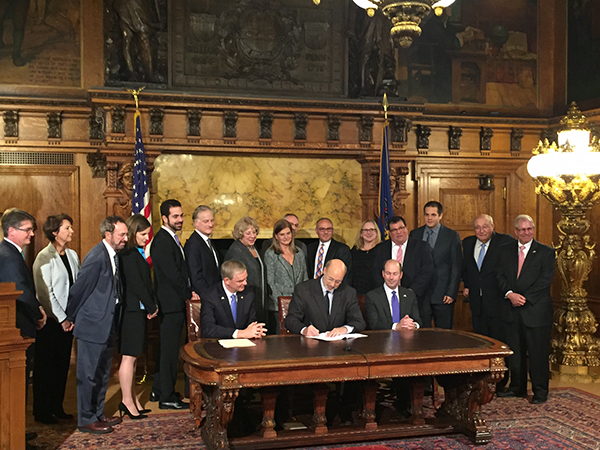 Today, I traveled to Harrisburg to join Governor Wolf in signing HB2107 into law. This legislation, passed with an overwhelming majority from both Houses, prohibits the Commonwealth's Department of General Services from entering into a contract with an entity that is engaging in an economic boycott against Israel. This strong anti-BDS commitment from our state is a great show of support for the one and only Jewish state. Pennsylvania is the 14th state to adopt such a law. I want to thank the Pennsylvania Jewish Coalition (an entity funded by our Federation and the other Jewish Federations of Pennsylvania) for taking the lead on encouraging this through the system. I also want to thank our Western Pennsylvania legislators who voted for this and Governor Wolf for not only signing it into law, but for verbally expressing his support of Israel. I encourage everyone to thank our legislators and Governor Wolf for standing with Israel.
Am Yisrael Chai!
Shabbat Shalom.