Please Be Aware
A billboard in Butler, PA containing Nazi imagery has received significant attention; a similar billboard has been in Worthington, PA for several months. We have been collaborating with community members and law enforcement on this. Read more on jewishchronicle.timesofisreal.com →
Andrew Clinton remains in custody pending his trial this Spring.
Be advised, community members in the Greenfield area have been verbally harassed by juveniles, asking if they are "fake Jews" and swearing at them. Please let us know if you have had similar encounters. Read more on jewishchronicle.timesofisrael.com →
The Anti-Defamation League (ADL) released a report titled Antisemitic Semitic Attitudes in America: Topline Findings. Survey results include that "over three-quarters of Americans (85 percent) believe at least one anti-Jewish trope, as opposed to 61 percent found in 2019." Read more on adl.org →
The individual who threw a Molotov cocktail at a NJ synagogue has been arrested by the FBI. The Rabbi credits collaboration with law enforcement, Federation Security Director, and the existing target hardening mechanisms recently installed with security grant funding (cameras and shatter-resistant doors). Read more on cnn.com →
SCN will be hosting a series of webinars in the coming weeks to help prepare for the 2023 Non-Profit Security Grant Program (NSGP), information and registration can be found here. We anticipate the grant opening in late February/early March. Register on securecommunitynetwork.org →
The PCCD State Security Grant is now open. If you are interested in applying and would like help, contact Erin Fagan at efagan@jfedpgh.org or 412-992-5252.
Two synagogue attacks that could have potentially been avoided with preemptive reporting, one in San Francisco and one in Houston. PLEASE remember to report anything suspicious in nature. Action beats reaction every time.
The founder of Atomwaffen, a neo-Nazi group, and his co-conspirator were arrested as they plotted to attack Baltimore's power grid in a racially motivated assault. Read more on reuters.com →
ISIS threatens to target Chabads, as well as other Jewish organizations. Chabads cautioned to be on high-alert. Read more on israelnationalnews.com →
We are seeing increased reporting of domestic and international targeting of the Jews, the above points are just two examples.  Because of that, and our focus on community security preparedness in advance of the upcoming trial (US v. Bowers), we have asked the FBI to do a community presentation titled, An Inside Look at Extremism, Radicalism, and Hate Crimes.  It is so important that we have a better understanding of the threat landscape so we know what to look for and what to do. Join us on Feb 15th 6:00 to 8:00 PM at Rodef Shalom for this event. Register online.
BluePoint Status
Our BluePoint training video and refresher video are available on YouTube. These are useful for new staff or as a reminder for existing staff.
Security Resources and/or Training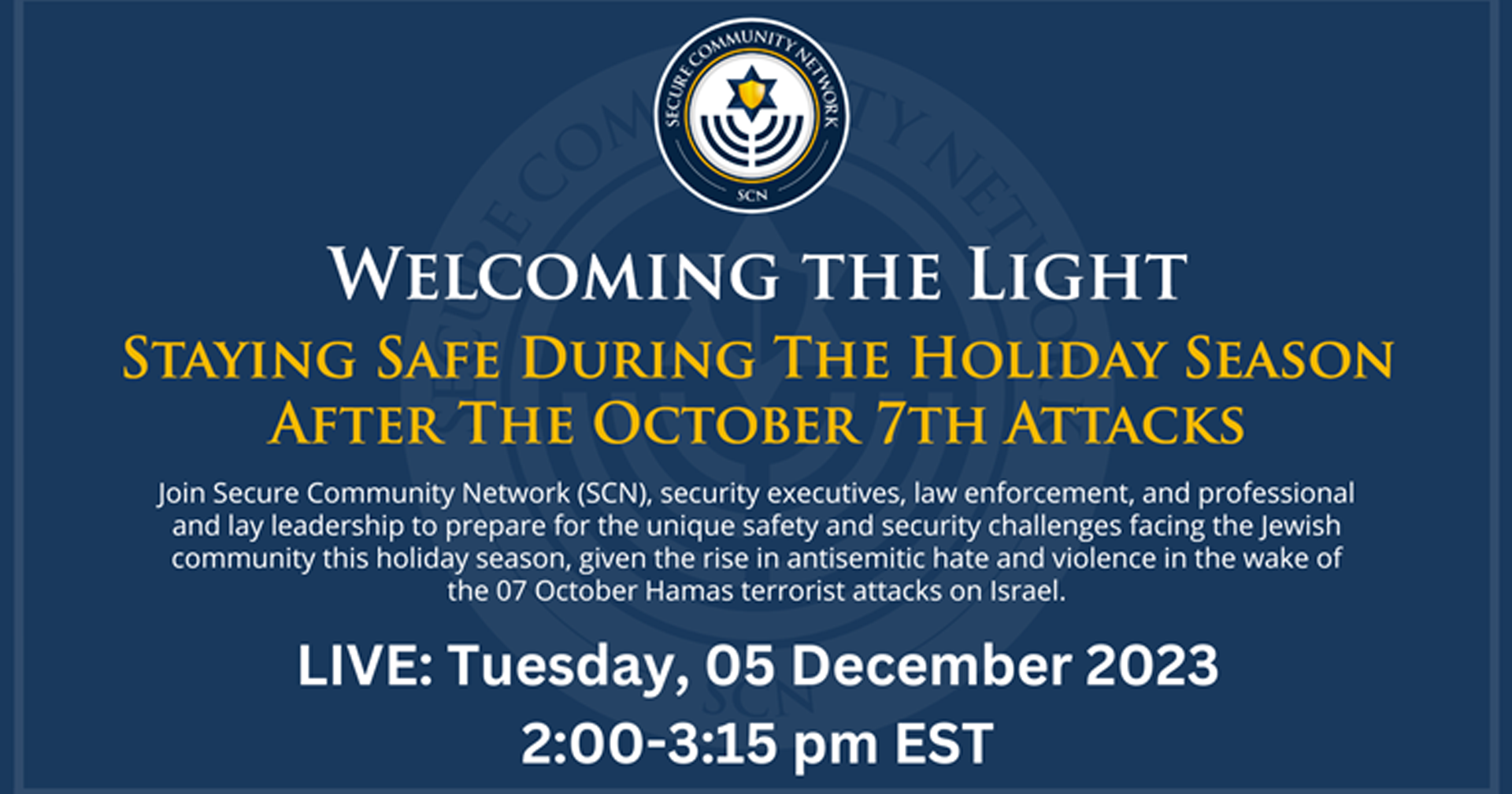 Tuesday, December 5 @ 2:00 PM

-

3:15 PM

EST
Staying Safe During The Holiday Season After The October 7th Attacks Join Secure Community Network (SCN), security executives, law enforcement, and professional and lay leadership to prepare for the unique safety and security challenges facing the Jewish community this holiday season, given the rise in antisemitic hate and violence in the wake of the 07 October Hamas terrorist attacks on Israel.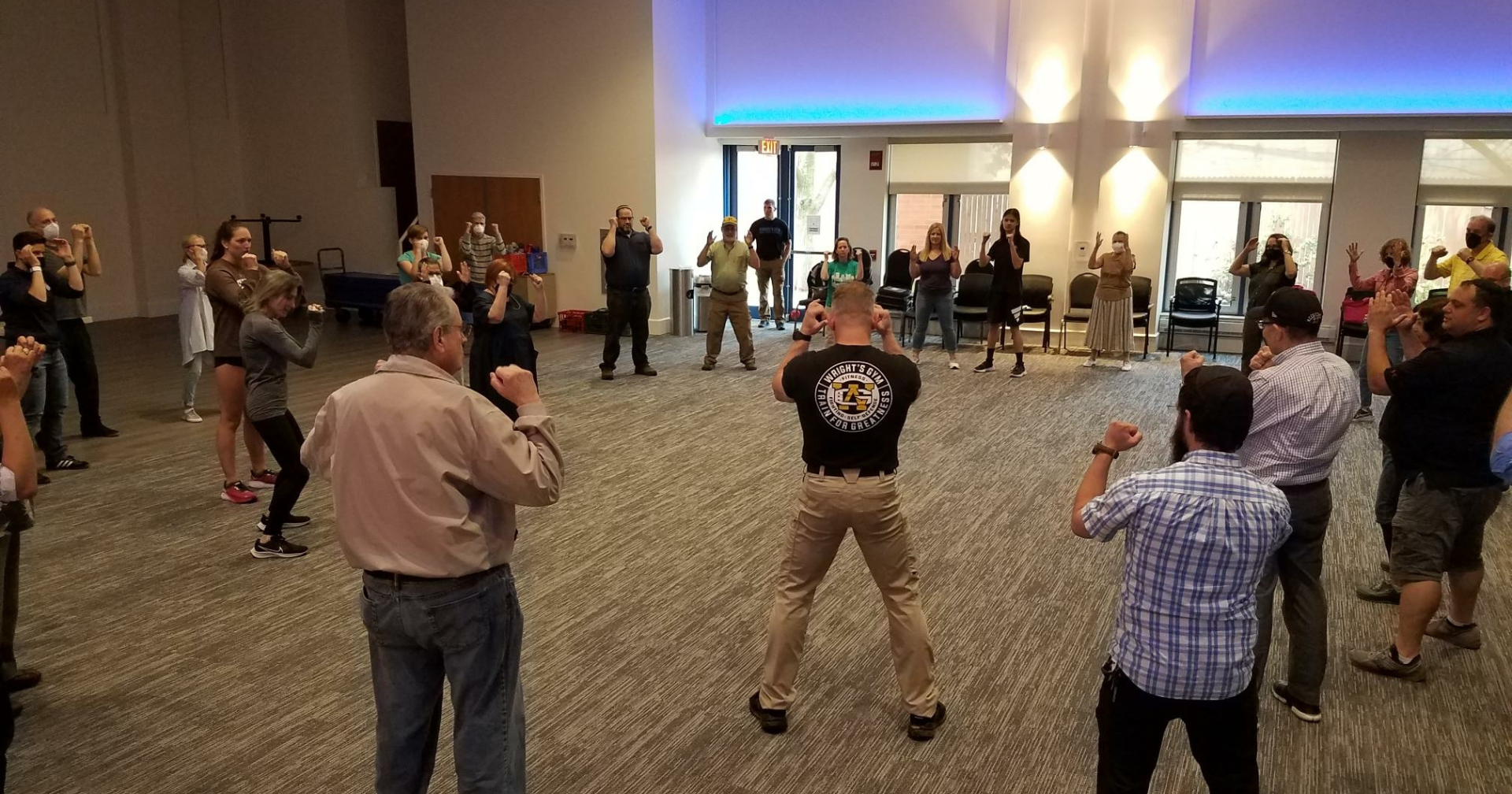 Sunday, December 17 @ 2:00 PM

-

5:00 PM

EST
Rodef Shalom Congregation

4905 Fifth Avenue




Pittsburgh

,

PA

15213

United States

+ Google Map
With a World-Renowned Krav Maga Expert
This 4-part course will address these important topics:
The mind of the active shooter predator vs. prey, situational awareness and survival mindset.
Basic self-defense techniques.
Weapons awareness and disarming techniques.
Reality based training.
This free training focuses on enhanced situational awareness, defensive tactics, and weapons awareness. If you cannot make this session, we will offer sessions monthly through March 2024.
Situational Awareness, Active Threat, and Usher/Greeter Training
If you or your organization have not yet had these training modules, please contact Erin Fagan at efagan@jfedpgh.org or 412-992-5252. All can be made available in person or via Zoom.
If you need more Emergency Safety Procedures Flip Charts contact Erin Fagan at efagan@jfedpgh.org or 412-992-5252.