What is collaboration? The dictionary defines it as: "the action of working with someone to produce or create something". That seems pretty simple to define, yet difficult to pull off successfully. Collaboration like any relationship takes real work. It means sometimes thinking about the other(s) with whom you are collaborating and what their needs may be. Collaboration means that it's not about you, it's about everyone involved in the collaboration. Collaboration's intent in the nonprofit world is about focusing on the clientele and how to best meet their needs.
Our Pittsburgh Jewish community is full of wonderful collaborations. Two Sundays ago, South Hills Jewish Pittsburgh (an initiative funded by Federation and private donors) collaborated with Temple Emanuel, the South Hills JCC, Chabad of the South Hills, Beth El Congregation and BBYO to put on a single Purim Carnival at the South Hills JCC. I went to see it in action with hundreds in attendance and a feeling of shared ownership of the endeavor. The goal was to engage more Jews in Jewish life and undoubtedly it was achieved and exceeded.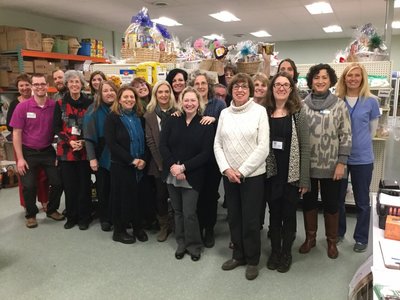 Another fabulous collaboration in our community is Agewell Pittsburgh. I invite you to read the story in the Jewish Chronicle about the fact that "Agewell", a collaboration of the Jewish Association on Aging, Jewish Family and Children's Service and the Jewish Community Center, along with Federation support, is now a finalist for a national collaboration prize. Over 350 applied and "Agewell" is now one of 8 finalists.
There are so many other Pittsburgh Jewish collaborations like the JJEP Program (the combined religious school of Congregation Beth Shalom and Rodef Shalom), JLINE (the community wide Jewish high school), or even things the Federation runs on behalf of the community so that each organization does not need to expend resources on their own (our Jewish Community Foundation, our group healthcare plan for employees of Jewish organizations, our Jewish Community Security Director, etc.).  And I know there are many more we can hold up high as models.
What more can we do?  Where can we join up and collaborate more, not just to say we collaborate, but to actually have bigger impact?  How can we increase the number of collaborations in order that more of our scarce communal resources can positively impact our Jewish community members?  One of our Federation volunteer leaders has been saying for years that we have "too many copiers" in the Jewish community. How can we become more efficient and reduce redundancies?
Lots of questions….
Wishing you a Shabbat Shalom.