Saturday night begins the holiday of Shavuot. I wrote about the holiday a few weeks ago in anticipation of tomorrow's community wide Tikkun Leil Shavuot. My suggestion back then to attend our program has become even more amplified to encourage each of you to consider attending this unique to Pittsburgh Jewish experience. With 22 different opportunities to learn with the diversity of Pittsburgh's talented educators, this is THE not to miss Jewish educational experience of the year. Visit jfedpgh.org/shavuot to see the complete line up of learning opportunities beginning at 10:00 pm and running until 1:00 a.m. on Sunday (including specific sessions for teens).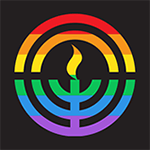 Love Is Kosher Pride Equality MarchLooking forward, I hope many of you will mark your calendars to join the Federation's Community Relations Council in marching in the Pittsburgh Pride EQT Equality March on Sunday, June 10th. Last year, our first in organizing a delegation, over 125 people joined us. I hope to have many more this year (and you get an awesome t shirt while supplies last). According to the Federation's recently released Jewish Community Study, approximately 10% of our Pittsburgh young adult population is part of the LGBTQIA+ community. This past week, Federation convened a diverse group of LGBTQIA+ individuals and allies from our Jewish community to discuss how the community can be more welcoming and specifically what the Federation can do to provide leadership for that effort. It was a remarkable gathering and we are already working on follow up. Register online to join me and our growing delegation on June 10th.
This Pittsburgh Jewish community is more diverse than ever. This Federation will continue to strive to be audaciously welcoming and inclusive of that diversity.
Shabbat Shalom. Chag Sameach. See you on Saturday night!
Jeff Finkelstein, President/CEO
Jewish Federation of Greater Pittsburgh