On Tuesday of this week, our entire Federation staff came to work in old t-shirts and shorts for a day of cleaning out. In fact, our garbage and recycling bins are literally overflowing right now. We felt it was important to be able to determine what really needs to be kept, what can be scanned and what can go to the Rauh Jewish Archives.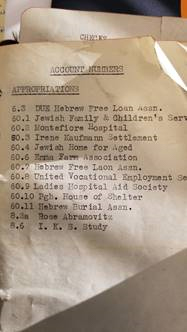 We found many treasures that show the Federation's history. One such item was a hand typed ledger of accounts and payables by the Federation that we think must be from the 1930's or 40's. As I flipped through the book I saw some of the more mundane items like insurance and safety deposit box information. But there also were disbursements to our agencies. To the right is a copy of the table of contents.
While we are a forward looking organization striving to build the optimum Jewish community of the future, we cannot and will not lose sight of our history that got us here. This ledger contains one bit of that history.
I hope to see a huge turnout at the Jewish Federation's Annual Meeting at 7 pm on Thursday at the JCC in Squirrel Hill where we will celebrate our Federation's accomplishments over the past year, recognize the winners of the Spector and Rudolph Awards, thank our outgoing Board and top leadership and welcome a new group of leadership of our Federation. We will also celebrate a top volunteer leader from over 40 of our communal institutions, individuals who give of themselves for the betterment of their organization and our entire community. And while we celebrate all that has happened, we will also discuss important projects and initiatives the Federation has taken on to build our future history.
Shabbat Shalom.