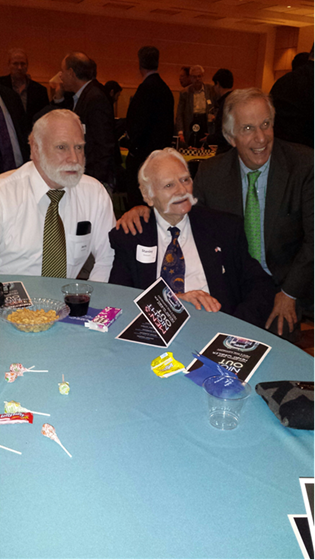 There is so much I could write about this week since a great delegation participated in the Jewish Federations of North America General Assembly in Washington DC that had many memorable moments. Pittsburgh was in a position of prominence as many of our Federation's initiatives were highlighted at several sessions.  To get a taste of the GA, I invite you to watch the video of David Gregory speaking at the Opening Plenary.  Just so you understand, with thousands in the room, there were thousands of tears.
Wednesday night, our Federation held its second annual Men's Night Out with guest speaker, Henry Winkler. I could tell you about the amazing turnout of male members of our community who are generous supporters of the Federation. I could also highlight the comments that "The Fonz" made. Instead, I want to let you know what our staff did because this program coincided with Veteran's Day. They reached out to a 91 year old Veteran who lives at Riverview Towers and invited him to attend as our guest. He was introduced along with the other veterans in attendance and we all burst into a several minute standing ovation. This veteran, Stanley, was escorted and cared for by our staff. The next day he called and left a glowing voice mail thanking those staff members for making him feel so absolutely welcome. Stanley is the person with Henry Winkler in the picture here.
Thousands in a room at the GA. Hundreds in a room at Men's Night out. What most moves me is how we can make a difference in the life of just one deserving individual.
Shabbat Shalom.