A group of about 20 Pittsburghers were in Los Angeles this week for the Jewish Federations of North America (JFNA) General Assembly. The GA gives us an opportunity to learn about the deep impact our Federation system has on the Jewish world.
At the opening plenary, members of the Houston Jewish community talked emotionally about the devastation to their own personal property and to Jewish communal infrastructure. There wasn't a dry eye among the thousands in the hotel ballroom. We heard how the nearly $18 Million raised by the Federation system along with the planning skills of the JFNA staff helped the community to put a plan in place for their future. This is all a result of our collective actions.
In a private briefing with the American Jewish Joint Distribution Committee (JDC) for our Pittsburgh delegation, we heard stories about older adults, 110,000 of them throughout the Former Soviet Union, to whom we provide food and medicine. These are some of the neediest Jews in the world today. This is all a result of our collective actions.
In another private briefing, this time with World ORT, we learned about the network of STEM schools throughout the world that attract Jewish students because of the high quality education provided, and in turn, bring these families closer to the Jewish community. This is all a result of our collective actions.
The Jewish Agency for Israel shared with us an initiative to build thousands of units of low income housing for seniors in Israel. With real estate prices in Israel rising at a rapid rate, the need for this type of housing is also rising. This will become a reality because of the power of our collective actions.
Thank you for being part of our collective actions.
Shabbat Shalom.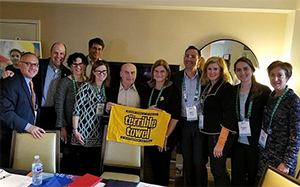 P.S.  If you want to see a picture of Natan Sharansky (former Refusenik and now Chair of the Executive of the Jewish Agency for Israel) holding a Terrible Towel with our Pittsburgh delegation, click the thumbnail image to the right. It obviously had a huge impact on the outcome of last night's game!