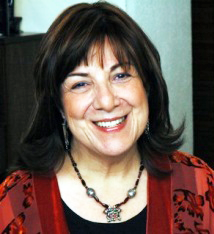 Biblical scholar and author Avivah Gottlieb Zornberg, Ph.D., will visit Pittsburgh for the first time in June and will present three lectures on significant Jewish topics. The Jewish Community Foundation of the Jewish Federation of Greater Pittsburgh and three synagogues will co-sponsor the lectures. Each lecture will be on a different date and at a different site:
"And I Am a Stranger: Becoming Ruth," 5:30¬–8:15 p.m., Friday, June 3, co-sponsored by Congregation Beth Shalom and presented at the synagogue, 5915 Beacon St., Pittsburgh 15217
"Lech Lecha: Becoming Abraham," 4:00–5:15 p.m., Saturday, June 4, co-sponsored by the Pittsburgh Partnership Minyan at the Jewish Community Center (JCC) of Greater Pittsburgh, Levinson Hall, 5738 Forbes Ave, Pittsburgh 15217
"Is Redemption Possible? Of Women and Mirrors," 9:30–11:00 a.m., Sunday, June 5, co-sponsored by Temple Sinai and presented at the temple, 5505 Forbes Ave., Pittsburgh 15217
"Avivah Zornberg is an amazing intellect and an extraordinary teacher of Torah," commented Foundation Scholar Rabbi Danny Schiff, Ph.D. "She always draws huge crowds in Israel. Her debut appearance in Pittsburgh is one you don't want to miss."
Ms. Zornberg is the author of "The Beginning of Desire: Reflections on Genesis," for which she received the National Jewish Book Award. Tikkun magazine called this work "a book to be studied … a modern midrash in its own right," adding "a written text could never live up to the magic of her shiurim (teaching)." Among her other titles is the 2015 release "Bewilderments: Reflections on the Book of Numbers."
Born in London, Dr. Zornberg grew up and studied in Glasgow, Scotland, with her rabbi father, who was the head of a rabbinical court. She earned a Ph.D. in English literature from Cambridge University. After moving to Israel, she began teaching English literature at the Hebrew University of Jerusalem but soon turned her focus to teaching Torah. She has taught Torah in Jerusalem for 30 years. She holds a visiting lectureship at the London School of Jewish Studies.
In Pittsburgh in June, each of Dr. Zornberg's three lectures will be open to the public. The June 3 lecture at Congregation Beth Shalom will be presented at a cost of $15. Information about "And I Am a Stranger: Becoming Ruth" is available on the Congregation Beth Shalom website at www.bethshalompgh.org/events. The June 4 and June 5 lectures, at the JCC Squirrel Hill and Temple Sinai, respectively, will be presented at no cost. Registration is not required for any of the three lectures. Questions about the presentations may be addressed to Rabbi Dr. Danny Schiff at 412.697.6650 or dschiff@jfedpgh.org.